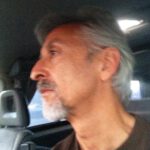 I was born in 1953 in Chula Vista, California near San Diego.
Spent my youth following Big Daddy Roth, building model hot rods, and making forts in suburban East Los Angeles. In 1961 my family moved to a brand spanking new housing tract (Brighton Hills) that in later years became the subject  matter for a series of paintings with suburbia becoming a major theme in my work.
In 1967 we moved to the San Francisco East Bay where oak trees, rolling hills and woozy psychedelia made a direct influence on my work. Fumbled around in high school and JC and later back to Los Angeles where I attended a couple semesters of Art Center College of Design and pursued my career in commercial art.
My brother Allan gave me a bag of snapshot rejects when he worked at a photo processing plant in the 60's. In the early 90's, my wife Lisa had assembled them into strange, kitschy photo albums and encouraged me to start painting using them as subject matter.  Continuing to paint, my focus shifted to the suburbs and landscapes that I knew so well.
I now live in Ojai, California with Lisa and our son Ray.
---
 REVIEWS

"Art that packs this intense a provocation of thought and emotion is rare, especially when such art is accompanied by accessible imagery and economic, subtle composition…." 
       MAT GLEASON,  art critic / ArtScene
---
"In order to fully enjoy Rick's art, one has to let go of the desire for conventional understanding…."    Full Review

"This painting mesmerizes…."  Full Review

"intense and epic palette…"  Full Review

"Who lives in these buildings..The protagonist from the film "Donnie Darko" comes to mind……."     Full Review
      ELIJAH SHIFRIN, art critic / Art and Critique
---
Artistic Touch: Fifties suburbia served as artist's first inspiration…. Full Interview
      NICOLE D'AMORE,  Correspondent / Ventura County Star